Welcome to our page for Women Poets' Network events. Here you will find our programme of events for members of the network. All indicated times are GMT (UK time).
---
2023 Programme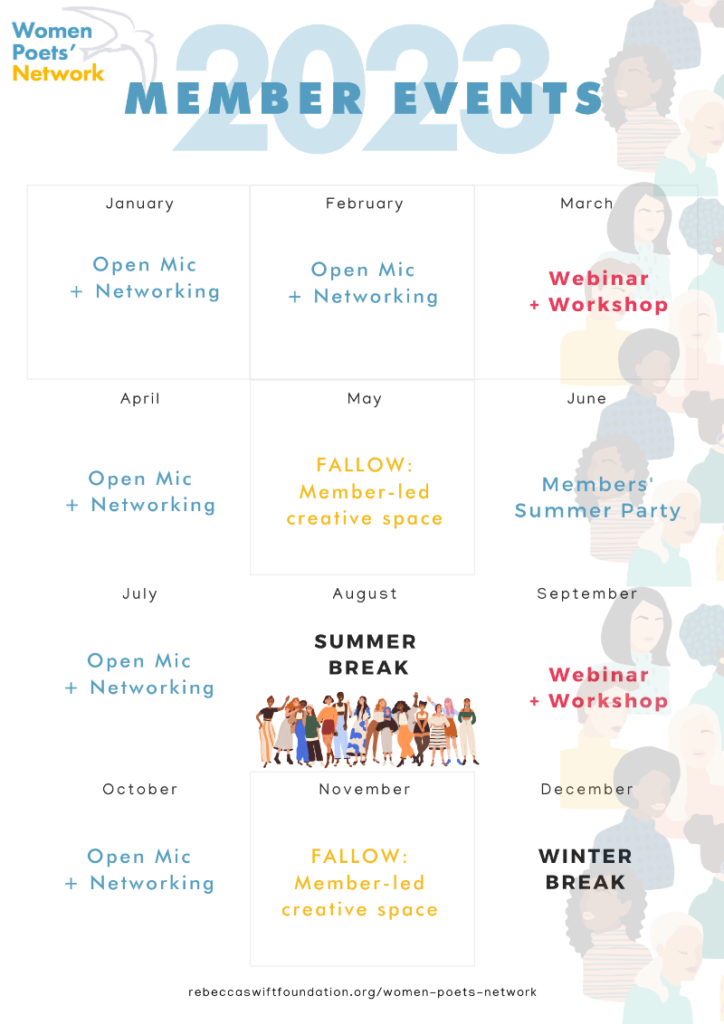 Our next event:
Online Open Mic & Networking, Sunday 19 February, 10.30am-12.30pm
16-poet open mic, plus practical chat – this month, we're talking about poetry reviews; how to become a (paid) reviewer, how to find a reviewer for your book. Bring your own tips and experiences to share.
---
Past Events

2023
Open Mic and Networking
2022
Women Poets' Festival supported by the National Centre for Writing
Webinar: How to Sustain a Career as a Woman Poet with Robyn Law (Society of Authors), Dzifa Benson (Jerwood Fellowship) and Julia Bird (Poetry Society/Jaybird Live Literature
Women Poets' Circle: Finding and Making Poetry Communities with Christy Ku
Women Poets' Circle: Building Our Own Residencies with Jo Bell
Webinar: What We Talk About When We Talk About Poetry Culture with Forward Arts, Jerwood Foundation, & Poet in the City
Online Social & Open Mics: discussing topics such as writing the perfect bio and entering prizes, with 16 poets reading and breakout networking rooms
Women Poets' Circle: Creativity & Confidence with Shamshad Khan
Women Poets' Gathering: Collaborations at Poetry Pharmacy