"It's not what you know, it's who you know."
Yet another guest speaker at our school gives this 'advice' to our teenage ears. They hurriedly mention their first job/internship came from their aunt/neighbour/family friend but hey, if they could do it we could too.
"Make sure you really work your contacts! Knock on doors! The worst thing they can do is say 'no'!" they declare.
"Well," I thought, "I'm screwed then, aren't I?"
Neither of my parents were in education past the age of 16. It's been hinted at that we are the first generation in our family to not grow up in poverty. I was a young East Asian girl living in a very white neighbourhood and trying to survive despite a lot of severe racism.
I don't think my neighbours saying "no" was the worst thing that could happen to me if I knocked, even if I visited when they weren't burning evidence in their back garden.
These days, I'm connected to a huge range of people from all different walks of life – from the poetry world to the food industry, filmmakers to coders, actors to DJs and more.
It has been a slow journey and it began with discovering that what you know leads to who you know. It's a cycle that feeds into each other.
How to find your community when you don't know anyone
As you hone your chosen craft/s and work on yourself, you will inevitably find your people.
My writing led me to discovering spoken word poetry. After writing a few poems that felt good enough, I popped up at some open mic nights and found a beautiful, welcoming world.
My networking technique was (and still is, to be honest) asking and being asked "Hi! I love your work! Where can I find more of it?" Over time, it got easier to approach strangers for a chat. This led to meeting more people, gaining more knowledge, learning about more opportunities, and steadily going deeper into the community.
At one night I met the phenomenal Jacob Sam-La Rose who told me about the Barbican Young Poets (BYP). I was unaware of the legacy of this programme and how it's fostered some of the best new poets in the country – I just applied thinking it seemed cool and I might meet nice people.
It was indeed cool and I did meet nice people. It also ended up being life changing, as I found lifelong friends who uplift, support and advise each other. BYP gave me the confidence to enter young people programmes in other disciplines, which in turn connected me to a whole new field of artists. I hope these projects continue and more of these programmes will be available to other age groups.
As you begin to put yourself out there, virtually and in-person, you'll find people who are in the same boat eager to connect. When you're genuinely interested in people – not for building contacts or networking or any corporate jargon – it's easier to actually connect. You'll also fall into many different communities as we're multi-faceted beings.
You might end up becoming friends, maybe just mutual admirers of each other's work, sometimes both. If you encounter folks with a "you can't sit with us" attitude – let it go. There will be three times as many who will welcome you with open arms.
How to build your own community – and maintain it
Five years into the poetry world, it was still hard to find other East or South-East Asian (ESEA) artists. I'd met a grand total of three others.
I've constantly been the only ESEA person in any room, creative or corporate, even if these spaces were curated for BiPoC folks. As much as I love meeting poets from all walks of life, almost never seeing a person who looks like me became intensely isolating. Surely I couldn't be the only ESEA poet? I cannot and do not want to represent all of us.
I realised I would have to set up the collective I wanted. So, I contacted the ESEA poets I knew (all three of them) and set up an Instagram page called BESEA Poets – the British East and South-East Asian Poets. Through word of mouth, the help of other ESEA collectives and the Instagram algorithm, we're now at almost 30 ESEA poets from across the country.
We platform and support each other, share opportunities, and there's a huge joy in simply knowing we're not alone. Last year, we had our first showcase raising money for the Hackney Chinese Community Centre and it was the very first time we'd seen an all ESEA poetry lineup.
Becoming a leader means constantly seeking how to serve your community. Human beings are inherently terrible with power. The more power one has, the more empathy is lost. We community founders cannot put ourselves at the front and centre. The cause is bigger than us and the community must be able to continue with us.
Our role is to lift others, not our egos. If one day, I need to be abdicated from leading BESEA Poets, the group will very easily live on without me (however, if anyone from our group chat is reading this, please don't launch a coup. I will be sad).
Although we are a community, having one shared aspect of our identity doesn't mean we have the same lived experience. Intersectionality must be at the foundation of our communities – we will always bring every aspect of our identity with us, we don't leave parts at the door. Simply assuming good intentions and not actively discriminating is not enough – we must actively ensure everyone is included to form a true collective.
The power of community
Forming communities has enabled me to have my life now. They've supported me, created paid opportunities, gave me confidence and restored my soul when facing yet another rejection email.
Whether it's regular in-person meet-ups or having a WhatsApp group chat, knowing I am connected is essential. People need people. Together we're stronger, more creative and it makes life more joyful.
Community resists the idea that there can only be one seat for one of us at the table. No one can create an artificial shortage – together we can create new seats, tables, the whole house together.
---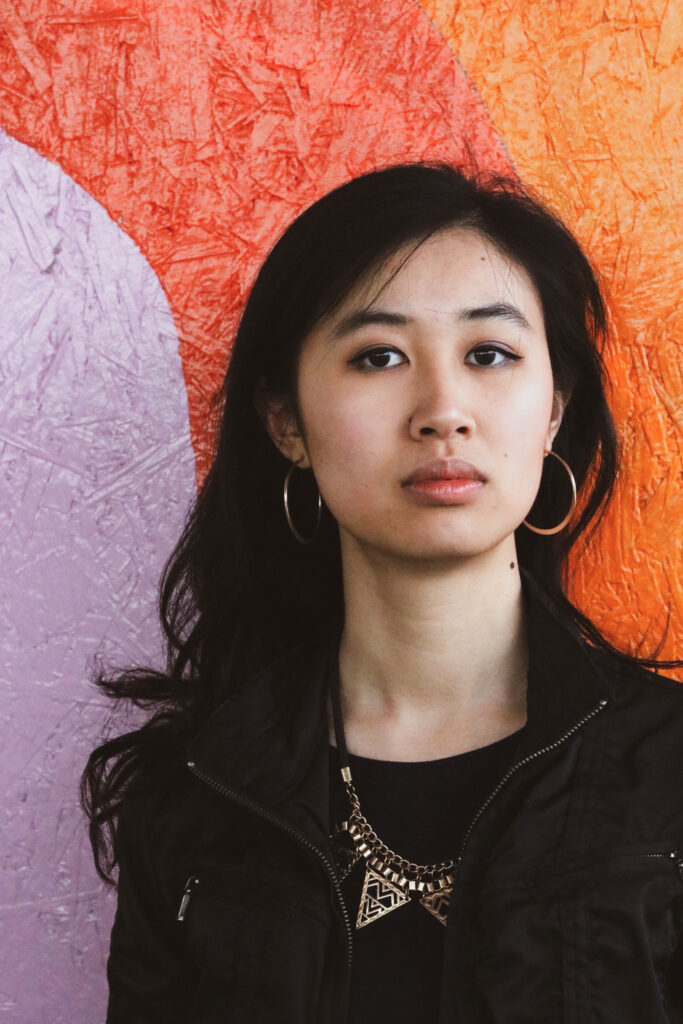 Christy Ku is a poet, performer and workshop facilitator. She has worked with organisations including the BBC, Sky Arts, Museum of London, Apples & Snakes and the Barbican on projects such as poetry films, spoken word tracks and theatre shows. She is an alumna of the Barbican Young Poets, National Youth Theatre and New Earth Academy, and a BBC 1Xtra's Words First 2019 finalist. Christy has been published in numerous anthologies with publishers including PanMacmillan, Own It! Publishing, and Magma Poetry. Christy founded BESEA Poets, a platform for British based East and South-East Asian poets. She is also the co-host and editor of the TeaTotal podcast. Christy is currently working on her debut poetry pamphlet and spoken word show. She was once rejected from having a poem baked onto 200 loaves of bread.