It's finally here! Judges Penelope Shuttle, Abi Palmer, and Nikita Gill have selected the "vital, varied and exciting" poets shortlisted for the third iteration of our biennial Prize. Little over a month remains before three of the nine will be announced as our 2022 winners and go on to receive a holistic package that combines financial aid, creative development, well-being, and pastoral support over two years.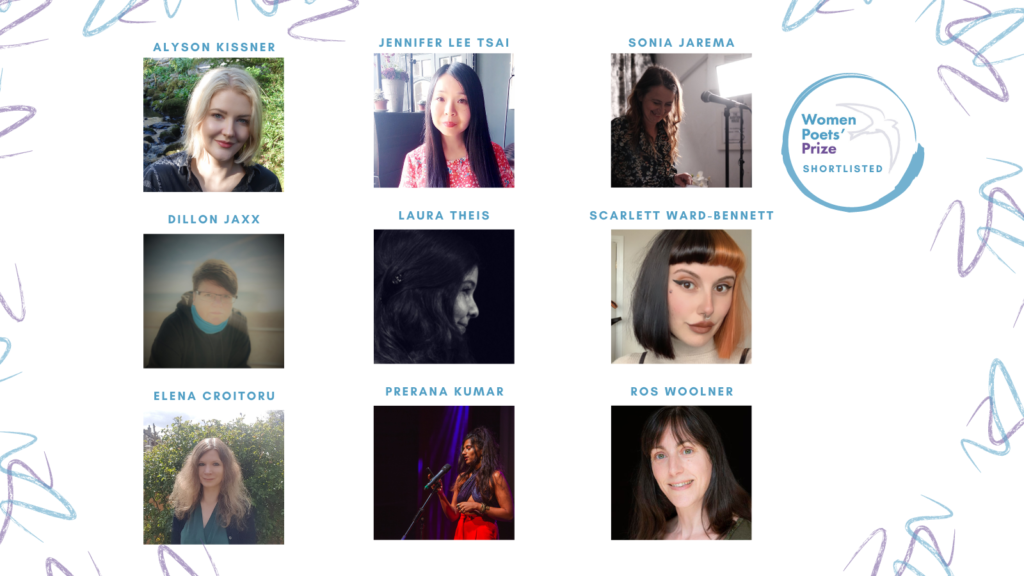 "It has been a privilege to discover the work of these shortlisted poets. Each one voices their truth with grace and insight, demonstrating their craft in vital, varied and exciting ways. Thank you, poets, and thank you to my co-judges both for their empathy and their grounded deeply-thoughtful responses to these poets."

Penelope Shuttle, 2022 judge
The 2022 Shortlist are: Alyson Kissner, Dillon Jaxx, Elena Croitoru, Jennifer Lee Tsai, Laura Theis, Prerana Kumar, Sonia Jarema, Scarlett Ward-Bennett, and Ros Woolner.
"This is the first time I've witnessed the judging process from the inside and it's unexpectedly emotional! I don't know how our judges have managed to select these nine amazing poets from so many great entries, but I'm excited for them and for the three winners we will eventually help support over the next two years."

Kirsten Luckins, Rebecca Swift Foundation Project Manager
We are also delighted to reveal that The Telegraph is our new, official media partner for the prize. Our three winners will be announced at a live reading, the culmination of our hybrid Women Poets' Festival on Saturday 19 November at the National Centre for Writing, and will simultaneously appear in a special Telegraph feature. It promises to be an uplifting beginning for their time with the Foundation.
"I'm thrilled to support the Women Poets' Prize, an award with a terrific track record for spotting talented writers early in their careers, and for celebrating writing that – in Penelope Shuttle's words – takes language out of its comfort zone. The new festival promises to be an essential date in any book-lover's calendar."

Tristram Fane Saunders, Commissioning Editor at The Telegraph