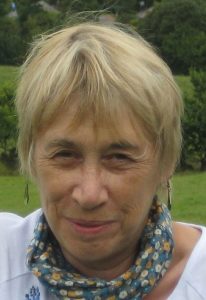 Penelope Shuttle's thirteenth poetry collection Lyonnesse was published by Bloodaxe in June 2021, fifty-three years after her first. We asked her to share some thoughts about what keeps a creative career alive throughout a lifetime.
When I was a very young poet I got my hands on every volume of the Penguin Modern European Poets Series, which appeared throughout the Sixties, poets such as Akhmatova, Amichai, Rilke, Montale, Nellie Sachs, Yevtushenko. These poets woke me up, cleansed my senses. Coming into contact with poets of such great force and authenticity exploded my smaller English poetry perspective.
Reading poetry is integral to the practice of writing poems. Reading and writing are a pair of conjoined twins, each nourishing the other, sharing the circulation of blood, the heartbeat, the oxygen of imagination. Our reading transmutes, via the alchemy of language, into new energies for our own writing.
Find a poet who speaks to you on a deep level and write in response to that poet. Study the techniques of that poet as a learning strategy for both your imagination and your craft.
The reward for wide reading is the true becoming of your own voice. In our reading we hear the still small voice of inwardness that is essential to finding our own voice.
Make sure you read beyond your contemporaries or the poets of the last two decades. Reach back into the roots of modern poetry, shift your focus away from the limitations of contemporary influences.
You are the cauldron, the fire, the magician, in the alchemical work of the imagination.
We know that time is often a constraint, especially for women with numerous home and work responsibilities.
Try planning a timetable and negotiate with your household for some writing hours each week, making sure that everyone knows when you are writing and respects your closed door.
If you have small children, then try to squeeze a couple of hours a week to go out to a café or library to write. This provides a respite time for your creative life, keeps you in contact with the imagination. Listen closely to the way small children play with language, with grammar, and note the freshness of their speech. Young children often surprise us with their spontaneous story-telling. Try to incorporate these brand-new verbal responses to life in your own writing.
The great artist Paula Rego says somewhere that when playing with her grandchildren she realised there was great power in 'the play element' in painting. So in writing. Language is a playful element, and pleasure must be present in our writing, even when we are writing on a serious subject. Listen to the elders in your family and wider circle, perhaps your writing can be a space for bearing witness to their life experience? Family responsibilities make the time for writing smaller, but they can also be a conduit for writing from deep places.
Give yourself permission to be a poet. If you come to the blank page or screen it is because you have something to say. To write is an opportunity to turn your gaze inward, to find a heart space. To write is to set out on an adventure every time. Where am I going? I don't know (yet). To use the imagination is a human right.
We learn from and write from everything that happens to us in life, from the profound to the mundane. Let us unlearn expectations and projections that are directed upon us by society and our immediate circle. Ask yourself when you write, who am I trying to please? Is there an inner critic standing between you and the fullest expression of your creative energy? Or are you writing with untrammelled energy? Be self-possessed, possess your self.
In our writing how do we break out of dry spells? By going for a walk or a run. By visiting art galleries and sculpture parks. By listening to music or playing an instrument. Above all by getting away from desk and screen. Who knows what you will see out and about in the world?
Much inspiration comes from things seen out of the corner of our eye, physical or mental. Elizabeth Bishop writes, famously, 'Dreams, works of art (some), glimpses of the always-more successful surrealism of everyday life, unexpected moments of empathy (is it?), catch a peripheral vision of whatever it is one can never really see full-face but that seems enormously important.'
So 'the peripheral vision' sparks the imagination. Sometimes a library angel offers the right page in the nick of time, or a phrase or image will follow us out of the night-time into our daytime world. Poetry, as James Tate said, is all around us. It just needs editing.
I try to keep my imaginative radar active. Sometimes, at a loss, I open a book at random, pluck out a phrase, and write from there. Often this leads to the arrival of a poem which had been hovering beneath the surface of consciousness, and the random prompt wakes up that poem. Doors open from this kind of linguistic play to lead into our real concerns, memories, conflicts, desires, everything that we write from and to which poetry holds up its mirror, its place of active reflection.
We also, naturally, write directly from experience. A good exercise is to look out of your window and describe all you see, and let your imagination go from there.
Open your senses to all possible influences. As poets we remember, we invent, we visit and re-visit places important to our life; we image, we regard, we record. We move among myriad threads of experience, journaling, dream plunges. Fragments of language flow through us. Out of these elements we access the imagination and weave our poems, having given ourselves permission, as is our right. I will close with some reflections by various poets:
The poet's job is to find a name for everything

Jane Kenyon
…but I don't really know how poetry gets to be written. There is a mystery and a surprise, and after that a great deal of hard work.

from Letter to Miss Pierson, Elizabeth Bishop
I always write out a lot of drafts, and when I do this, I like to write the whole poem out each time, in order both to fix it in my head and to see where my hands catches on the paper, so to speak, which words it snags on

Julia Copus
All poetry is experimental poetry

Wallace Stevens
The body is the great poem

Wallace Stevens
A bitter truth is better than a sweet lie

Zbigniew Herbert
The poet is like a mouse in an enormous cheese excited by how much cheese there is to eat

Czeslaw Milosz
One of the great things about being a writer is the extent to which it allows us to invent ourselves. It's like being in a witness-protection programme

Paul Muldoon
Poems are words that take you through three kinds of doors: closed doors, secret doors, and doors you don't know are there

Stephanie Strickland
Penelope Shuttle lives in Cornwall. Her thirteenth collection, Lyonesse, appeared from Bloodaxe in June 2021, and was Observer Poetry Book of the Month for July. Covid/Corvid, a pamphlet written in collaboration with Alyson Hallett, appears from Broken Sleep Books, September 2021. Father Lear, a pamphlet, was published by Poetry Salzburg in June 2020.