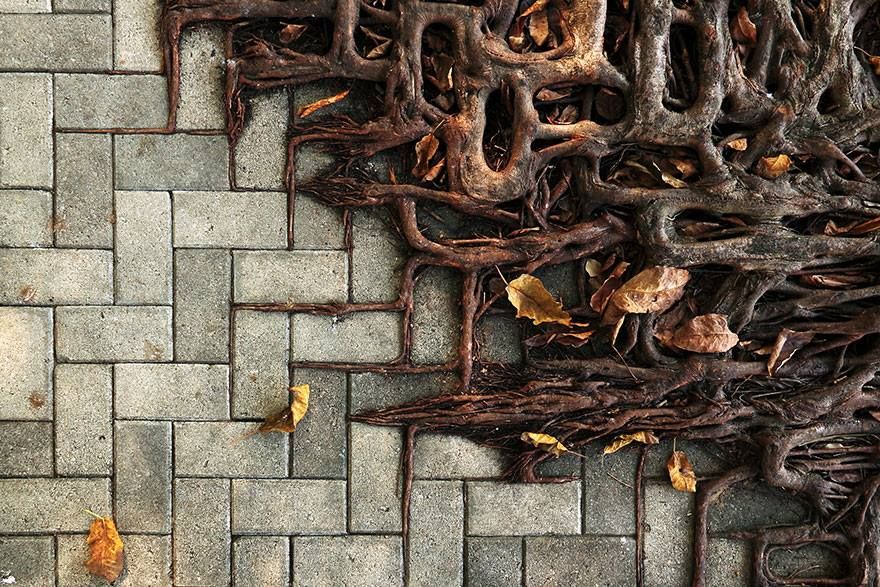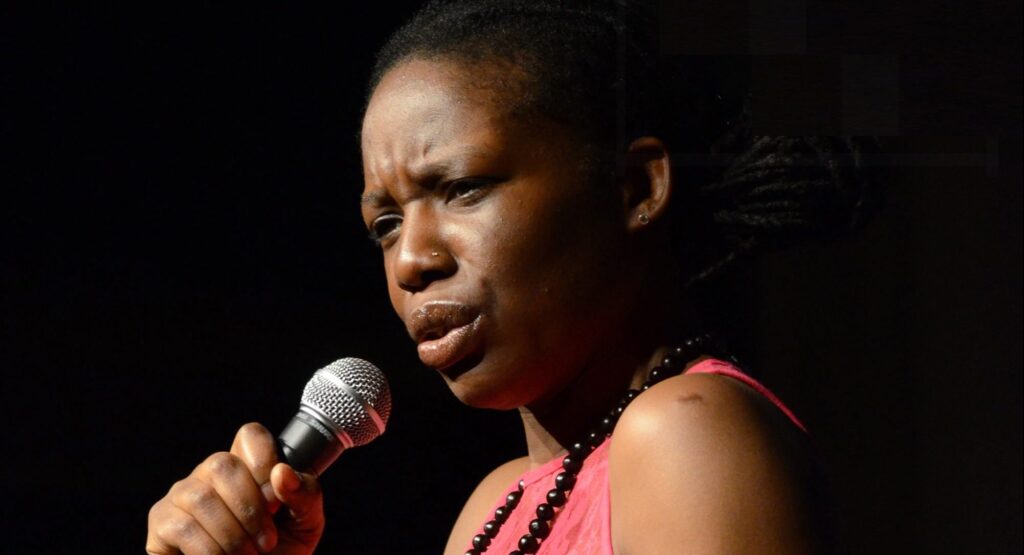 We continue our series of essays On Being A Woman Poet with performance artist Kat François' reflections on her journey towards a life in poetry, the inspirational people and essential spoken word communities that showed her the way…
I went to an all-girls inner-city secondary school and many of my teachers tried to steer us towards service careers, such as shop work and hair dressing or secretarial work. None of those options were captivating to me or many of my peers. Since childhood I have had a strong interest in reading, writing, and performing.
My introduction to performance poetry was a popular event called Singers and Poets night, held in the crypt of St Matthews Church, which stands prominently in the middle of Brixton, London. The night was run by a tall South Asian Poet, called Skorpio the Nemesis, he was a gracious host, who encouraged me to perform. When my turn came, I was too nervous to take to the stage, he promised he would make space for me the following month, which he did.
That evening there was a female poet, Fatima Kelleher who shared a piece which dealt with her dual heritage. I was inspired by how powerful she was, how fiercely she forced out her words, her ability to capture the attention of the audience.
I put in some serious practise in front of my bedroom mirror, returned the next month and to quote another cliche "The rest was history" The ability to write and perform my own words, was momunetal. I was a working-class woman, a black woman, a first-generation Caribbean woman, poetry provided a safe space. Sometimes I may have only had three minutes on a stage, but it was all I needed.
I spent evenings and weekends with other poets, writing and creating, running around London and beyond taking any opportunity we could to perform.
I cut my poetic teeth on nights such as Urban Griots, The Word, Black Pepper, Soul Food and Farrago. I took up slamming as this was a guaranteed way to obtain a performance spot. I slammed mainly against male poets, female slammers were far and few between, but this fact never intimidated me. I am naturally very competitive, coming from a family of 7 children, everything easily turned into a competition. I was in my element.
I happily pit myself against anyone; initially I was destroyed by far superior performers and writers, my skin become thicker, my writing and performance skills developed and eventually I started winning slams. I was never intimidated by competing against male poets, I was happy to compete against anyone my motto was "May the best person win."
A week after I gave up my job as a sex and relationship educator to concentrate on poetry, I won the BBC3 TV slam, the following year I won the World Slam Championship in Rotterdam and I have not stopped performing, teaching, or travelling since.
I threw myself into a poetry career wholeheartedly, running my own nights, including slams, one of which Word4Word one of them ran for 15 years. My life has been saturated in teaching, writing, and performing poetry. As a facilitator and event organiser I have championed the work of female artists and have always strived to create a safe an encouraging space for women to create and perform.
During lock down I continued to mentor a group of young female poets online. I also started running women's online writing workshop. I'm pleased to say the workshops have been going strong for over a year now.
Recently I have been thinking a lot about legacy and I constantly ask myself questions like, whose life will I impact with my words, what of myself will I leave behind? Who will open a book of mine and throw themselves into the pages?
As a young girl I gobbled up books by Rosa Guy, Judy Blume, Alice walker and Maya Angelou, Toni Morrison and Buchi Emecheta. These are the books that snuck into my bedroom and kept me awake late into the night. these are the kind of books I wish to write.
I've made a good, solid career out of teaching and performing, both nationally and internationally. I have a roof over my head, clothes on my back and I am certainly not starving. I have had multiple poems published in anthologies, but I am embarrassed to say that never got myself together enough to pull together a full collection of poetry or write the novels I have been threatening to publish since my teens.
Sometimes life can take over, sometimes creativity must take a backseat, but I also know how important voices like mine are, black voices, female voices, marginalised voices, othered voices, voices that sit across intersectionality's and how imperative is that we are able to tell our own stories, in our own way, in our own words.
No more excuses.
I have much writing to do.
Kat François is a performance artist, educator, broadcaster, playwright and director. The first person to win a televised poetry slam in the UK, a year later she won the World Slam Championships. As a playwright, Kat has written and performed two internationally staged solo plays, and two comedy shows. Raising Lazarus, Kat's play dealing with the experiences of Caribbean soldiers in World War One, continues to tour globally to critical acclaim, and formed part of the WW1 centenary and featured at Imperial War Museum.